Discover more from Definitely Not Okay
Welcome to my letters of vulnerable thoughts in troubling times! They will knock on your heart to inspire and comfort one at a time. I look forward to connecting with you. Love, Linda
Protest, But Don't Be A Protester
A Message from 1960 S. Korea about the Ubiquitous Struggle in the Fight for Justice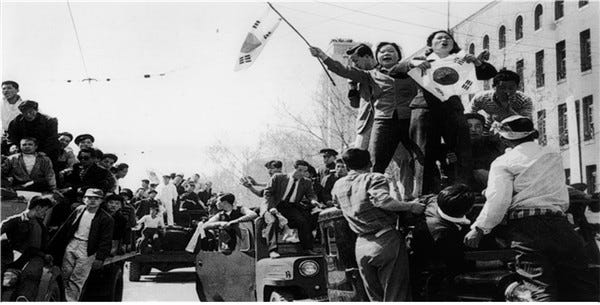 Lee Jaeyoung, President of Women's Alliance for 4.19, in April Revolution (then 2nd year in high school) ⓒ saenuridang
---
The April Revolution of South Korea in 1960 was not a fight against racial injustice; however, it shares similarities with the Black Lives Matter movement of the USA in 2020. Here are a few facts about the revolution:
In March, high school students in Masan protest against then-President Syngman Rhee and his electoral corruption.

On April 11, the body of Kim Ju-Yul, a student who had disappeared during the protest, gets discovered at a harbor with a tear-gas grenade penetrating his skull.

This triggers the start of protest by student and labor groups in Masan, opposing Rhee's autocratic rule, corruption, use of violence against political opposition, and uneven development of South Korea.

It spreads to large student protests in the capital city Seoul, which are violently suppressed; a total of 186 people are killed during the two weeks of protest.

Rhee resigns on April 26 before fleeing to exile in the United States.
---
Kim Su-Young, a Korean poet, wrote "Ha… No Shadows" on April 3, 1960. As I recite the poem today, the poet's argument hits us close to home. Our fight for racial justice does not have one face to identify. You could argue Trump as the one, but that is a dangerous illusion. He embodies racism but makes up only a fraction of it. Racism is much bigger than one person. It walks around us, walks with us, and walks in us.
Ha... No Shadows

Our enemies are nothing to look at.
Our enemies do not look fierce like Kirk Douglas or Richard Widmark.
They are not in the least fierce villains,
they are even virtuous.
They disguise themselves as democrats,
they term themselves good citizens,
they term themselves the people's choice,
they term themselves company employees,
they ride in trams, they ride in cars,
they go into restaurants,
they drink, they laugh, they gossip,
their faces express sympathy, sincerity,
they do their work quickly, say they're busy,
write texts, keep accounts,
they're in the countryside, by the seaside,
in Seoul, they take walks,
go to movies,
have charm.
Which means to say that they're right beside us.

Our battle line is invisible to the eye.
Which makes our combat all that more difficult.
Our battle line is not at Dunkerque, or Normandy, or Yŏnhŭi Hill.
Our battle line cannot be found in any atlas.
Sometimes it lies in our homes.
Sometimes it lies in our workplaces.
Sometimes it lies in our neighborhoods but
it is invisible.

In appearance our combat is not as active as burnt-earth strategy,
or "Battle at Gun Hill," neither is it nice to see.
Yet we are all the time fighting.
Morning, noon, and night, as we eat,
as we walk down the street, as we enjoy a chat,
as we do business, as we engage in engineering works,
as we go on journeys, as we weep and as we laugh,
as we eat spring greens,
as we go to the market and sniff the smell of fish,
fully fed, and thirsty,
making love, dozing off, in dreams,
waking up, and waking up, and waking up…
as we sit in class, as we go home
as we set our watches to the siren, as we are shining our shoes…
our combat knows no rest.

Our combat fills all the space between heaven and earth.
Since it's democracy's battle, it has to be fought democratically.
As there are no shadows in the heavens, democracy's battles likewise know no shadows.
Ha… no shadows.

Ha… just so…
Ha… and yet…
why, just so indeed… that's how it is.…
Uhuh… uh… what?
Ah, I see… I see, I see.

Translated by Brother Anthony of Taizé
---
Here are my closing words to you, inspired by Gerald Clarkson's spoken words "I'm not a protester!":
Protest when you can, but don't be a protester.
Be a teacher
Be a student
Be a parent
Be a guardian
Be a partner
Be a mentor
Be a friend
Be a neighbor
Be a coworker
Be you
who fight for justice through words and actions everywhere you go; who treat yourself and others with compassion; who listen, nurture, and heal; who ask for criticism and advice; who learn and grow every single day.
You are in this fight, not just this month, not just 2020, but for the rest of your life. Stay alert and aware so you can sustain yourself for the long haul.
Love, Linda
PS: You can click on the title of this letter to leave comments. I'd love to hear your thoughts. Please share this letter with your family and friends with whom you want to engage in the difficult yet important conversations about the BLM movement.
---